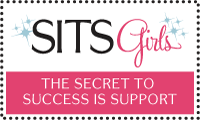 Welcome SITStas!
I am so excited that you are here for my SITSday! If you're not familiar with
SITS,
you should check it out!
SITS
, which stands for
The Secret is in the Sauce,
is an amazing network of bloggers that support each other with comment love. But that's not all, the
SITS
site is full tips for bloggers. Please, go visit the
SITS girls!
Wow, having my SITSday
today sure takes the funk out of Monday morning! So, let me introduce myself, I'm Sandy, mom of
6 awesome kids!
They range in age from 18 to 16 months. Three boys, Michael, Brandon, Aaron, and three girls, Felicia, Madelyn, and Stella. I've been married to my hubby Mike for 19 years and he is just as awesome as my kiddos. For 15 years I worked in a daycare/preschool where a fell in love with doing crafty things with little ones. Now that I am a SAHM, I do many of those
kid crafts
with my kids at home. I hope you get a chance to check them out.
For the most part,
we have a pretty "normal" life, but this past August I began a fight for my "normal" life when I was diagnosed with breast cancer. I'm just past the halfway point of my chemotherapy and things are looking good. I recently found out that
the tumor in my breast is shrinking!
I try to keep a positive attitude about it all and hearing this has been so encouraging.
I can and will beat this!!!
Please, take some time to look around and see what Moments of Mommyhood is all about.
Thank you all for visiting! Have a fabulous day!