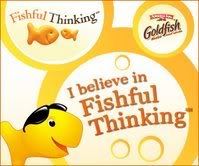 Several weeks ago, I was introduced to the
Fishful Thinking website
by a couple of other bloggers. I checked it out and immediately realized how wonderful it is. Soon after, I became an ambassador for
Fishful Thinking
!
Fishful Thinking
is a great initiative, sponsored by Pepperidge Farm, that helps parents gain the skills needed to instill optimism in their children. The site is full of activities that are designed to incorporate into every day life.


Fishful Thinking
is comprised of five ingredients:
Optimism


Emotional Awareness




Goal Setting/Hope


Resilience


Empowerment



I am very excited to announce that I am having my very first giveaway on Just For Fun! But it's not just any old giveaway, it's a chance for me to share the fabulous things that can be learned by visiting the
Fishful Thinking website
.



The prize for this giveaway is a $25 Macy's Gift card!



Here is what you need to do to be eligible for the drawing:

First entry: Show me what you have learned about
Fishful Thinking
! Go visit the
Fishful Thinking website
. Take some time to explore the site, then come back here and leave a comment about what you have learned.

You must visit the site to qualify!



*Update- Due to an amazing response to the Fishful Thinking ambassador program, they are no longer accepting new ambassadors. Those of you who earned the extra entries for becoming an ambassador will still receive those entries.



This contest will end Sunday, April 12 at 11:59PM(EST). I will announce the winner sometime on Monday, April 13.

Good Luck!