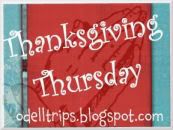 It's
been a while since I have participated in
Thanksgiving Thursday
, but that
does not mean
I
don't
have a lot
to be thankful for
. So here are
a few things
that I am thankful for this week!
*
My hubby!
He has been working hard as usual this week, even picking up some extra work so that I can continue to stay home and be with the kids.
I love him!
*The gorgeous weather!
Although, it is cooler and cloudy today, the past few days have been fantastic! It has given us all a chance to enjoy the outdoors more and there is nothing better than
the smell of lilacs in bloom!
*My parents!
They have been so great during our remodel, letting us stay there for a while and by putting up with all of my laundry until the laundry room is finished.
*My boys!
They are really turning into hard working young men just like their dad:0)
Michael
has been taking care of all the yard work here, while
Brandon
mows grass for my parents and grandparents.
Aaron
, put in a lot of hours doing cement work with his dad this week. He was a big help!
*My girls!
They are the comedy relief that we need around here!
They are hilarious!
Those are just a few things that I am thankful for this week!
What are you thankful for?